Are you ready for your next adventure? Join our walk from Frankston to Cape Schanck,
18-20 November, 2022.
An event to Inspire, Empower & Support women through connection, talking and walking. 
Choose your distance: walk 2 or 3 days
The total distance of the 3-day walk is approximately 60kms. You will walk 20kms each day
You will be on the trails for 4-6 hours each day, incl. a half hour lunch + two 15 minute breaks
You will experience the varied terrain of the Peninsula: hills, single trails, uneven ground, boardwalks and footpaths
You will start and finish the walk with the group, start and finish points will be advised
The event is open to women aged 18 and over. We encourage family members wishing to support you to accompany you on your training walks and to sign up to our STRAVA account
What's included?
A fully supported course with checkpoints, guided by experienced walk leaders and assisted by a fun crew who will cheer you on along the way
Daily shuttle services to and from the event
Access to the 'Women's Circle' at Kangerong Holiday Park in Dromana – an evening of inspiration, celebration and connection
Pre-event information sessions and targeted training walks with experienced walk leaders
Access to our closed (private) Facebook group and WSP's STRAVA Training account
A teal-coloured Women's Spirit Project T-Shirt
Access to the Event Hub for the duration of the event
Locally sourced food provided at Kangerong Holiday Park:

2 X Nutritious breakfasts to kick start your day
2 X Dinners on Friday & Saturday evenings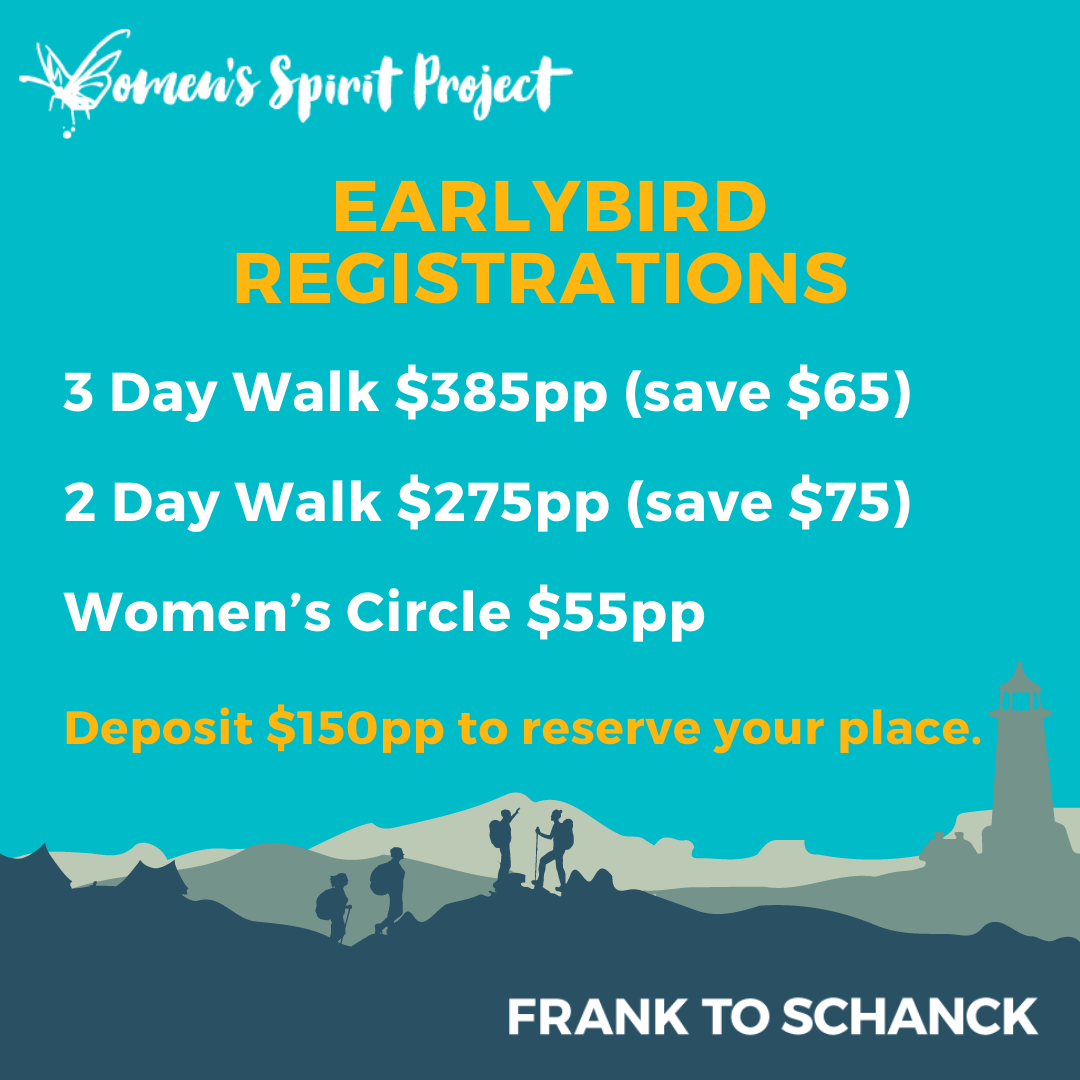 Taking Last Minute Bookings:

Women's Circle Event || Sat 19 Nov
Motivational female speakers and inspiring soulful activities, entertainment and dinner on Saturday evening.
Activities include movement, meditation, music and vision casting.
The Women's Circle is included in your registration costs and held at Kangerong Caravan Park, Dromana.
NON WALKERS: If you are not walking, you are welcome to join us for the women's circle ONLY, by booking your ticket here ($55,- p.p incl. dinner).
The cost of accommodation is not included in the event registration fee.
We recommend you book your accommodation near Kangerong Holiday Park, Dromana and make use of the many options in the area for the nights of Friday 18th and Saturday 19th November.
Kangerong Holiday Park, Dromana:

There are limited camping spots remaining at the park. Please contact Kangerong Holiday Park directly to book your site.
Our event marquee can accommodate up to 18 women who may wish to camp out together in this shelter. A small nightly fee will be charged per person by the Holiday Park.
If you are interested in this option, please contact our team via [email protected] at the time of booking your walk.

Alternative accommodation options close to Kangerong Holiday Park include Robins Caravan Park or the Bay Motel Safety Beach, a range of AirBnB's or holiday homes.

If you are local, you are also welcome to return to your home in the evening.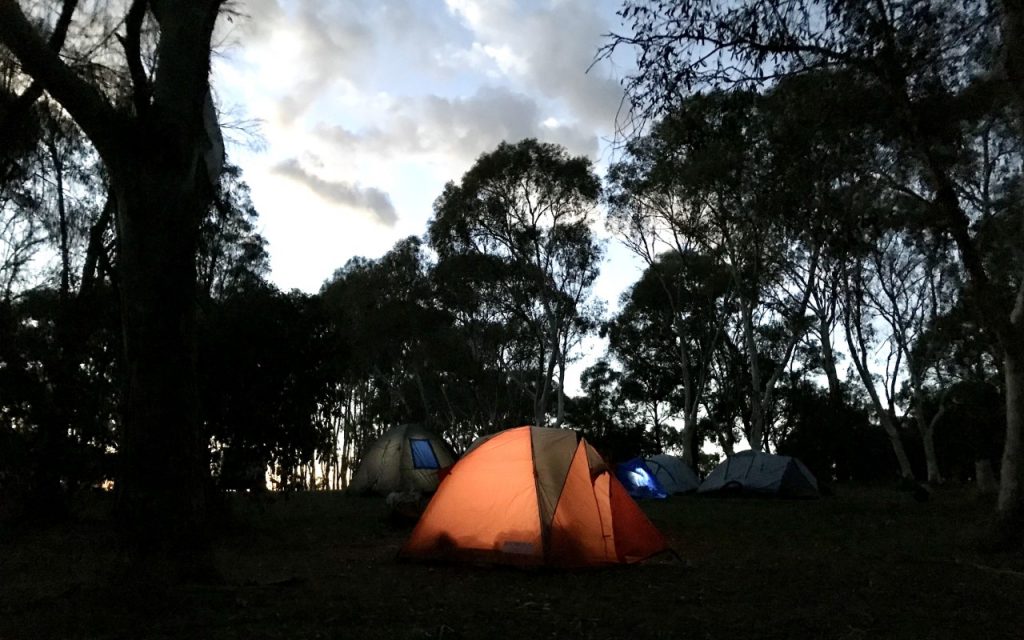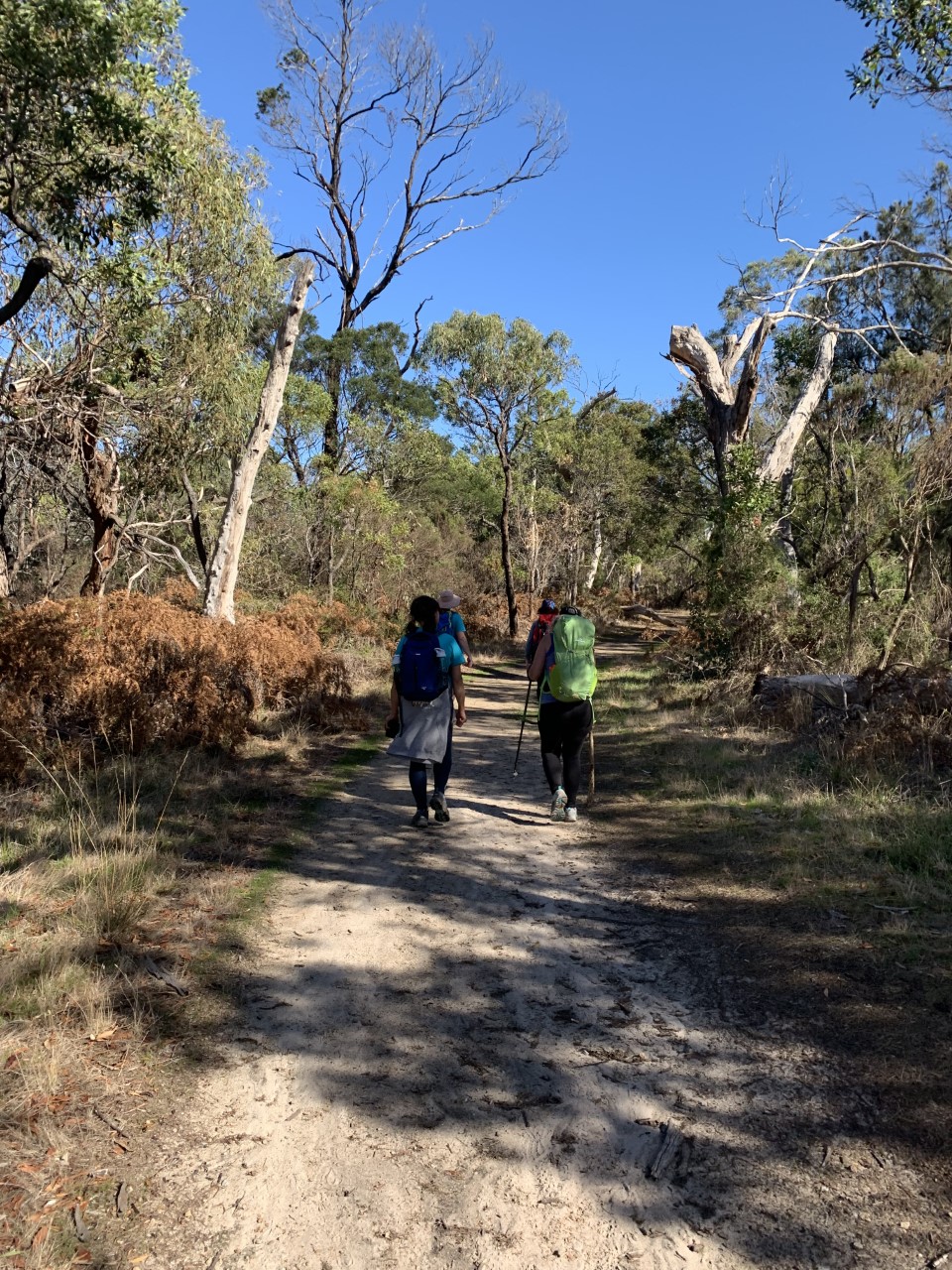 To prepare for the event, you are invited to participate in a series of targeted training walks and two briefing sessions.  Dates and registration details are outlined in our FAQs.
Walks will be held at various locations with the intention to support you to prepare yourself physically and mentally, to try out your equipment and to connect you with other walkers.
Training Walks will also be advertised on the Walk for Wellbeing (closed) Facebook page and on the WSP Strava Club noticeboard.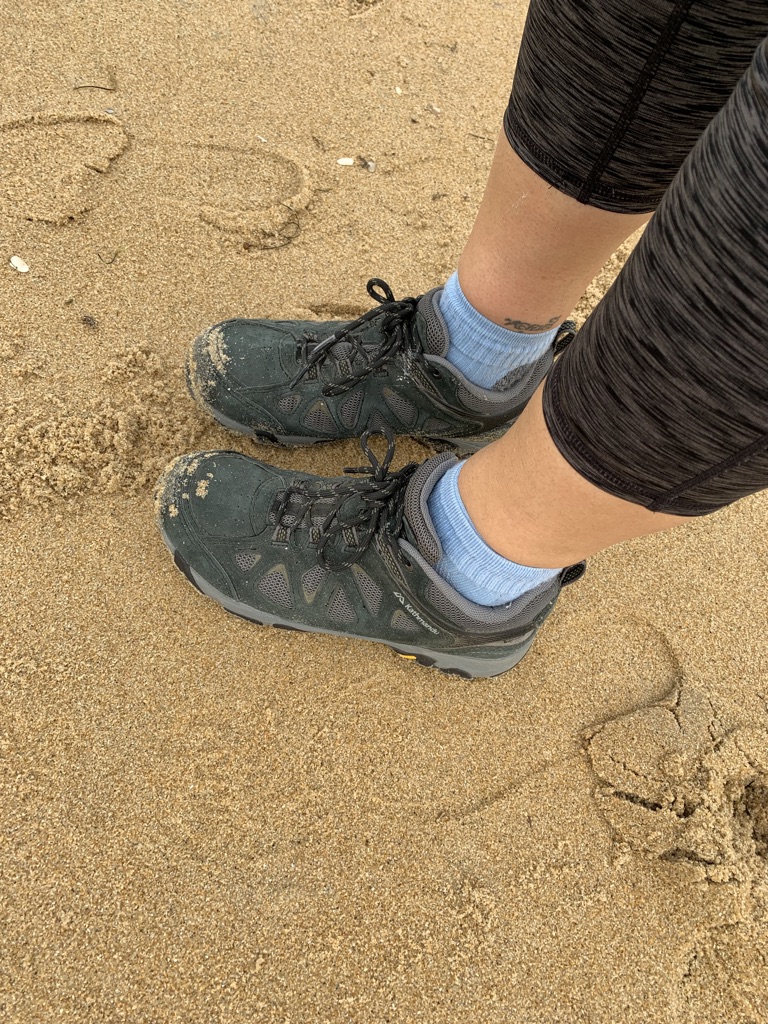 Decide if you're walking for 2 or 3 days, sign up and pay your registration.
Receive a confirmation email with event details and book your accommodation.
If by chance you don't receive a confirmation email, check your spam folder and/or contact us.
FRANK TO SCHANCK REGISTRATION
Proceed to Payment & Next Steps
After your registration, you will receive an email with your confirmation details and next steps. This includes a reminder link to our e-store where you will pay for your walk registration.
Take me to the e-store for walk payment options
Delivered with support from our sponsors
The Frank to Schanck Challenge event is an initiative of the Women's Spirit Project which aims to inspire and empower women to transform their lives through fitness, health and wellbeing activities.
In registering for The Frank to Schanck Event (2022), hosted by  the Women's Spirit Project (incorporated as The Motivation Project), you agree to abide by these Terms and Conditions and accept the Risk Waiver before participating.
 1.  FEES  
The Your entry fee includes free training walks in the Frankston || Mornington Peninsula region, pre walk information sessions, preparation resources and access to our closed Facebook community. During the F2S walk, you will participate in a supported adventure guided by our walk leaders and support crew. The 1, 2, and 3 day walk options include breakfast, dinner as specified in our list of inclusions and the Women's Circle event on Saturday 19 November. Accommodation is not included in your event entry.  
Frank to Schanck fee schedule is as follows: 
3 Day Walk Early Bird $385pp


Fri 18, Sat 19, Sun 20 Nov, 2022

 

3 Day Walk Standard Registration $495pp
Fri 18, Sat 19, Sun 20 Nov, 2022
2 DayWalk Early Bird $275pp
Sat 19, Sun 20 Nov, 2022

2 Day Walk Standard Registration $330pp
Sat 19, Sun 20 Nov, 2022

 



1 

Day Walk Standard Registration 

$150pp
Sun 20 Nov, 2022 ONLY
Women's Circle Evening ONLY
(not walking)    (includes dinner, Wyapa, Meditation, Music and    Vision Casting)   $55pp
Sat 19 Nov, 2022 ONLY
2.  RISK/WAIVER
The decision to participate in the Frank to Schanck Event (2022) is entirely my own and I understand that walking is a potentially hazardous activity. I attest that I will be physically fit prior to undertaking the Frank to Schanck Event(2022) and that I am not aware of any undisclosed illness, injury, physical disability or impairment that may cause me injury or death during, or as a consequence, of my participation.
I acknowledge I am aged 18 or over, or that I am 16 or over AND will be participating under the supervision of a parent/guardian who is also registered as an event participant.
I accept all risks that may result from my participation in the Frank to Schanck Event (2022) including, but not limited to, loss of life or permanent injury. I agree, in consideration of and, as a condition of acceptance of my entry in the Frank to Schanck Event (2022) for myself, my heirs, executors and/or administrators, to hereby waive all and any claim, right or cause of action which could, would or might arise out of my death or injury, damage or loss of any description whatsoever that I may suffer or sustain in the course of, or consequent upon my entry or participation in the Event or as a result of any acts or omissions whether negligent or otherwise of the Women's Spirit Project, their authorised representatives or any other party involved in the Frank to Schanck Event (2022).
I accept this waiver, release and discharge shall be (and operate separately) in favour of all persons, corporations and bodies involved, or otherwise engaged in promotion or staging the Frank to Schanck Event (2022) (including but not limited to the Women's Spirit Project) and each of their directors, officers, agents, contractors, employees, servants, representatives, promoters, sponsors and volunteers, including the owners, licensees and occupiers of land upon which the Event or any part of it takes place, any statutory body or local authority having control over any land upon which the Event or any part of it takes place or which is involved directly or indirectly with the Event in any manner whatsoever. This release and indemnity will continue forever and binds my heirs, executors, personal representatives and assigns.
I agree, for safety and logistics purposes, to notify WSP event staff/volunteers immediately if I need to withdraw from the Frank to Schanck (2022).  
I accept WSP may, at its discretion, cancel my Frank to Schanck Event (2022) participation if I
breach these Terms and Conditions;

behave in a way that is a risk to myself or others;
behave in a way that is inappropriate or offensive or in breach of the law;
use illegal or performance enhancing drugs when undertaking any activity with WSP;

fail to accept the terms of the Risk Waiver before participating. 
3.  CANCELLATION POLICY 
In the event The Women's Spirit Project is prevented (directly or indirectly) from performing any of its obligations under this agreement by reason of an Australian government agency declaring restrictions on the region where the Frank to Schanck Event (2022) is to operate, lock downs preventing participation in the event or state border closures preventing participants from travelling from interstate to the event location, or any other associated reason, which is beyond the reasonable control of The Women's Spirit Project, the Women's Spirit Project will provide a full refund. Alternatively, participants can opt for funds to be held in credit to be carried over for the next F2S Event or equivalent 3-day walking event. 
4.  REFUND POLICY 
Registration fees are generally non-refundable, as many of the costs and fees are preparatory and are incurred from before you register to prior to the event actually commencing.
I acknowledge as a registered participant that if I need to withdraw from the Event (2022) due to extenuating circumstances, (and upon presentation of a valid medical certificate, where applicable), that a refund may be provided at the discretion of WSP Management. Where it is determined a refund shall be offered, I acknowledge a $75 administration fee will be deducted from any refund provided. 
5.  USE OF NAME 
I consent to the publication and/or use of my name, image or otherwise, (including the publication of my name and/or Frank to Schanck Event (2022) participation in any broadcast, telecast, advertising, promotion or other account of this Event, in any form of media and social media whatsoever including advertising and promotions for future Women's Spirit Project events, or for any legitimate purpose) without payment or compensation.   
I agree to notify Women's Spirit Project (WSP) prior to the event in writing if I disagree with Clause 5 of the Terms and Conditions. 
I agree not to share or tag posts, images, clips or content from closed (private) WSP social media groups with external parties unless express permission is granted by the WSP Managing Director. 
6.  THE ROUTE  
WSP advises the route maps will be available from October 2022 and distributed to registered participants by email. 
WSP advises the route will be marked on Event Day as best as possible. I agree, for my own safety, to follow the route markers, follow the instructions of Event Marshals and demonstrate self-navigation with the provided maps. Every event is unique, and some trails of the route can be less urbanised than other parts. I acknowledge the importance of reviewing the route maps and agree to review the route maps before setting out.  
 I acknowledge event distances are approximate and may vary, detour or change on Event Day due to unforeseen circumstances such as weather and or other safety considerations. 
7. COVID-19 
I acknowledge that it is my responsibility to ensure that I am familiar with and abide by the COVID 19 restrictions and advice set out by the Victorian State Government (or my relevant jurisdiction if outside of Victoria).  The Women's Spirit Project takes the COVID 19 Health restrictions seriously and all activities must be undertaken within the government restrictions that apply at the time of participation. More information about restrictions can be found at Pandemic Order Register | health.vic.gov.au. 
8.  PRIVACY  
I understand that I can gain access to my personal information and request that such details be updated if they change in the future by writing to the Women's Spirit Project at [email protected]. 
 Privacy Statement: The Women's Spirit Project and its authorised representatives respect and value the privacy of all information we collect about Frank to Schanck Event (2022) participants. As the organisers of the Frank to Schanck Event (2022), the Women's Spirit Project and its authorised representative collect information about participants for the administration and conduct of the Frank to Schanck Event (2022). Information collected will be securely stored in our database. By entering the Frank to Schanck Event (2022), you consent to your personal information being provided and used in an emergency, or as the need may arise, for the purposes of ensuring your safety and wellbeing. You further consent to receiving information and marketing material from The Women's Spirit Project and its authorised representatives.  
9.  ACCURACY 
I declare that all the information supplied by me on the entry form is true and correct.  
 I acknowledge that The Women's Spirit Project reserves the right to amend the Terms and Conditions of the Frank to Schanck Event (2022) at any time.